Strolling through the beautifully landscaped grounds, admiring the high-end architecture and stepping into your private glass elevator—it sounds like something out of a movie, doesn't it? But the reality is that you can live in an ultra swanky luxury condo that offers all of these experiences & more! Pre-construction condos offer some of the world's top amenities & experiences, ready to take your life to the next level.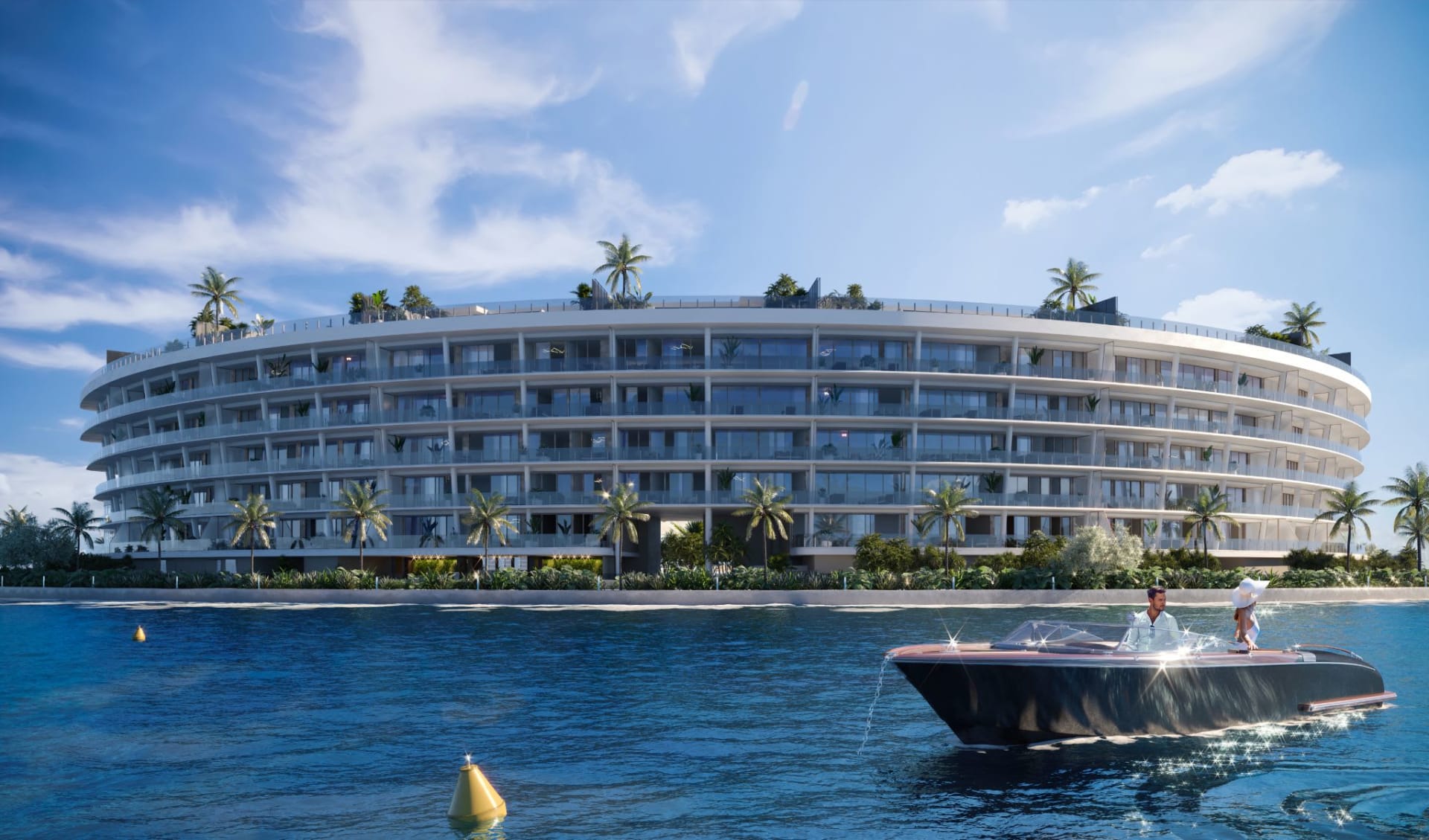 1) Vita at Grove Isle
A Luxury Island Living Experience Like No Other
This coveted gem of a property is conveniently located off shore from one of Miami's most sought after neighborhoods, Coconut Grove. Every detail has been carefully planned for optimum convenience; from an inspired architectural design, to lavishly appointed interiors with custom features like gourmet kitchens and spectacular Florida views.
As if that weren't enough, you'll also find signature amenities throughout including swimming pools & spas designed by world-renowned designers such as Philippe Starck and Isabela Nichelelles.
Fantastic Amenities
One-of-a-Kind Island Location

Private Waterfront Features & Amenities

Sophisticated Contemporary Architecture & Elegantly Landscaped Grounds

Exclusive Personal Services & Resort-Style Amenities

Individual Parking Garages & Bicycle Storage

Advanced Technology & Security
Vita offers architecture that can't be found anywhere else. It imitates the curves of Florida's coastline and maximizes ocean views. Luxury abounds here, because this place comes with TWO pools and a spa where you can relax after a long day at work. Explore the beautifully landscaped grounds or try out some new sports- there are even pickleball and padel courts available! To top it all off, Vita has both its own private club house perfect for hosting events, plus an upscale restaurant & bar onsite.
Learn More about Vita at Coconut Grove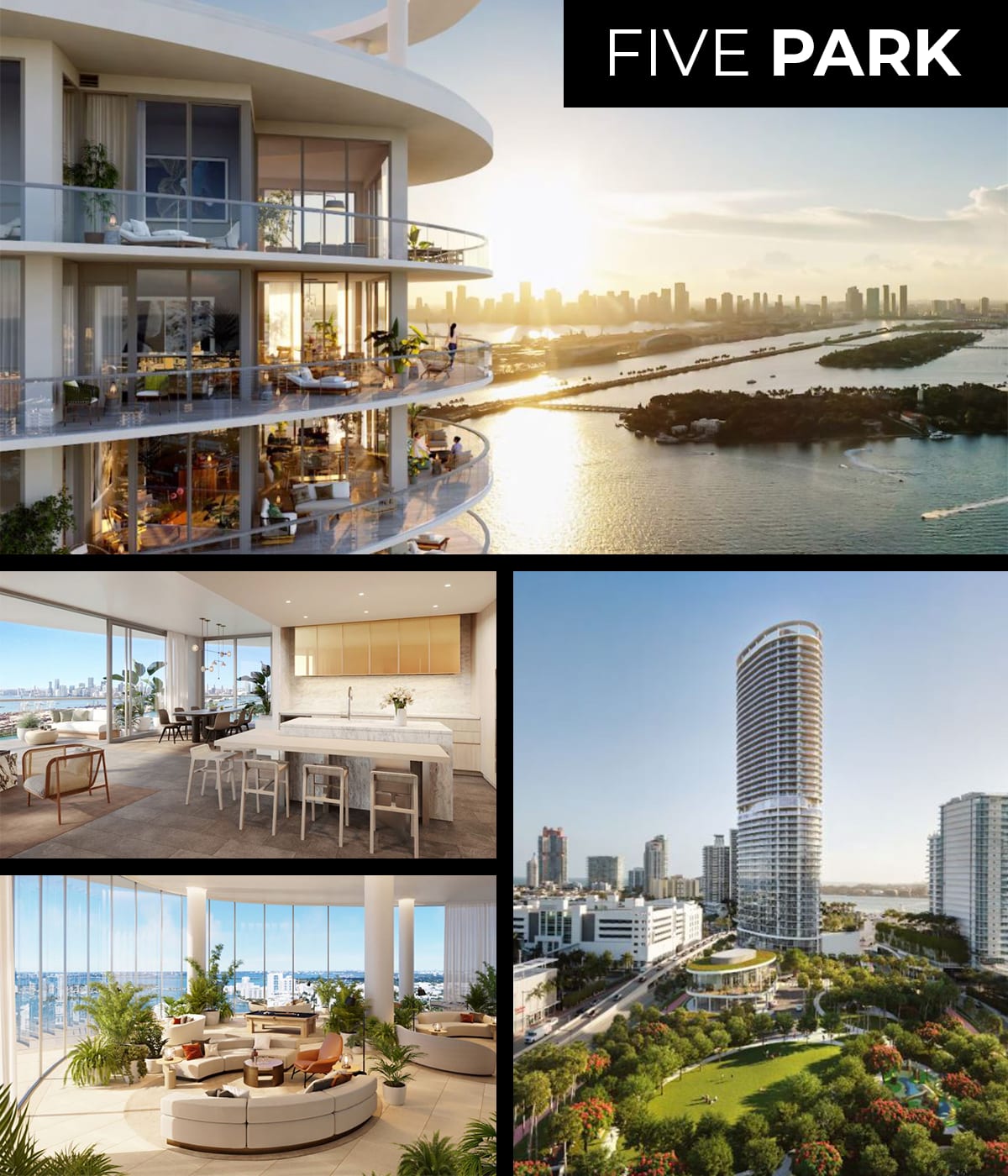 2) Five Park
Live Life at New Heights
Welcome to Five Park - where nature and luxury meet seamlessly at the intersection of function, beauty, and sustainability. With an exclusive residential tower on one side and an open-air plaza on the other, Five Park provides residents an inviting blend of luxury living, casual shopping, and coastal experiences. Explore Five Park today and discover one of the most transformative residential towers on Miami Beach.
As your private elevator doors open, you know you've officially arrived. Lofty 10-foot ceilings and oversized balconies welcome you home and bring the outside in.
Some of the Amazing Amenities Include:
Unparalleled views of the ocean, bay, and Miami Skyline

Electric vehicle charging stations

Private elevator

Soaring 10-foot ceilings

Italian-made kitchen cabinets, s

tone countertops and backsplashes

Master bedrooms provide ample wardrobe storage with large walk-in closets

24-Hour Concierge and Butler Service

In-House Personal Trainer and Wellness Coach

Outdoor Yoga and Exercise Deck

Men's and Women's Relaxation Lounge with Saunas and Showers

Adult Pool with Wading Area

Private Beach Club in Miami Beach with a House Beach Car

Seasonal Dining Experiences Curated by a Host of Top Chefs

A Seamless Indoor to Outdoor Terrace featuring views of the Sea, Sand and City, framed by Lush Greenery

& much more!
Experience Five Park's Unique Elliptical Form
Five Park's unique, elliptical form creates 360-degree views, opening up floors and balconies for an inside-out approach to living. Punctuated by pops of vibrancy, the clean lines and timeless fixtures lend an air of modernity to a classic undertone.
Learn More about Five Park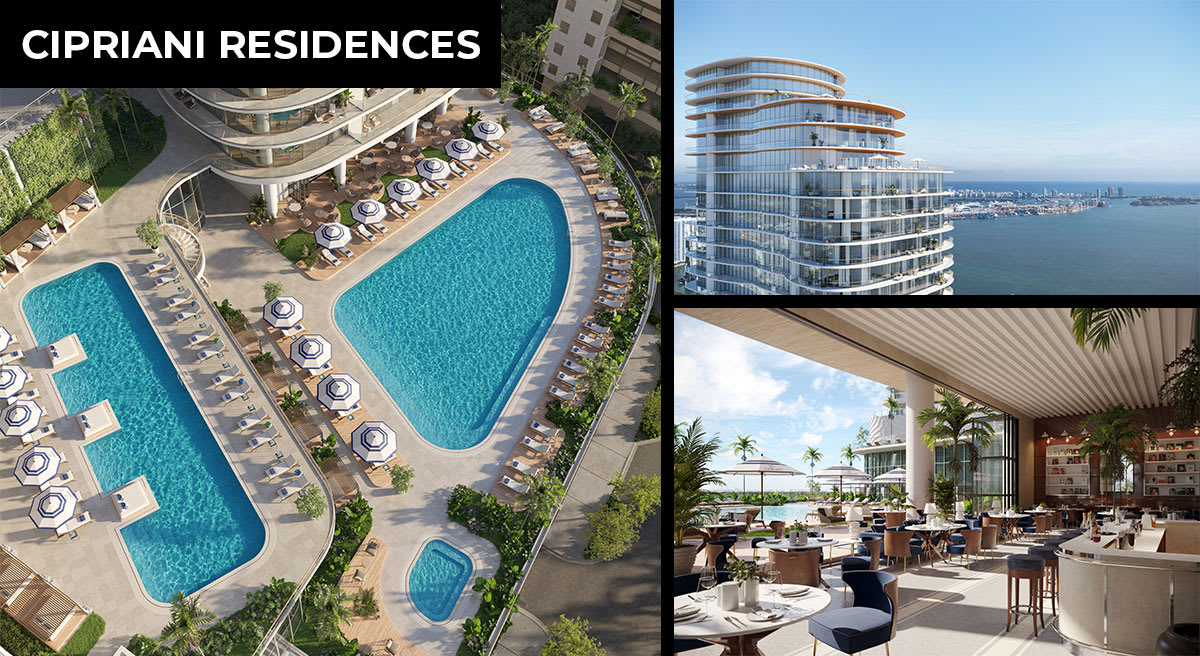 3) Cipriani Residences
Feel Like Royalty in Cipriani Residences Miami
Boasting magnificent panoramic views of Biscayne Bay and the Brickell skyline, forget your worries while living in this masterfully designed luxury residence. To live in Cipriani Residences Miami is to enjoy those signature service standards first established at Harry's Bar in 1931 and perfected through four generations. Individual tastes are indulged and needs are anticipated with an intuitive understanding of when and where their attention is required.
Amenities
Amenities at Cipriani serve as an extension of one's home, allowing round-the-clock access to exclusive features including:
Dramatic lobby leading to two banks of high-speed, touchless elevators

Signature private dining experiences by Cipriani

Holistic spa with sauna and treatment rooms

Elevated four-level wellness center and lounge overlooking the Brickell skyline

& much more!
Experience Miami in a Masterfully Designed Residence
Positioned on a privileged location at the gateway to the vibrant Miami neighborhood of Brickell, Cipriani Residences epitomizes the timeless Italian spirit, style, and service for which the brand is so revered.
Learn More about Cipriani Residences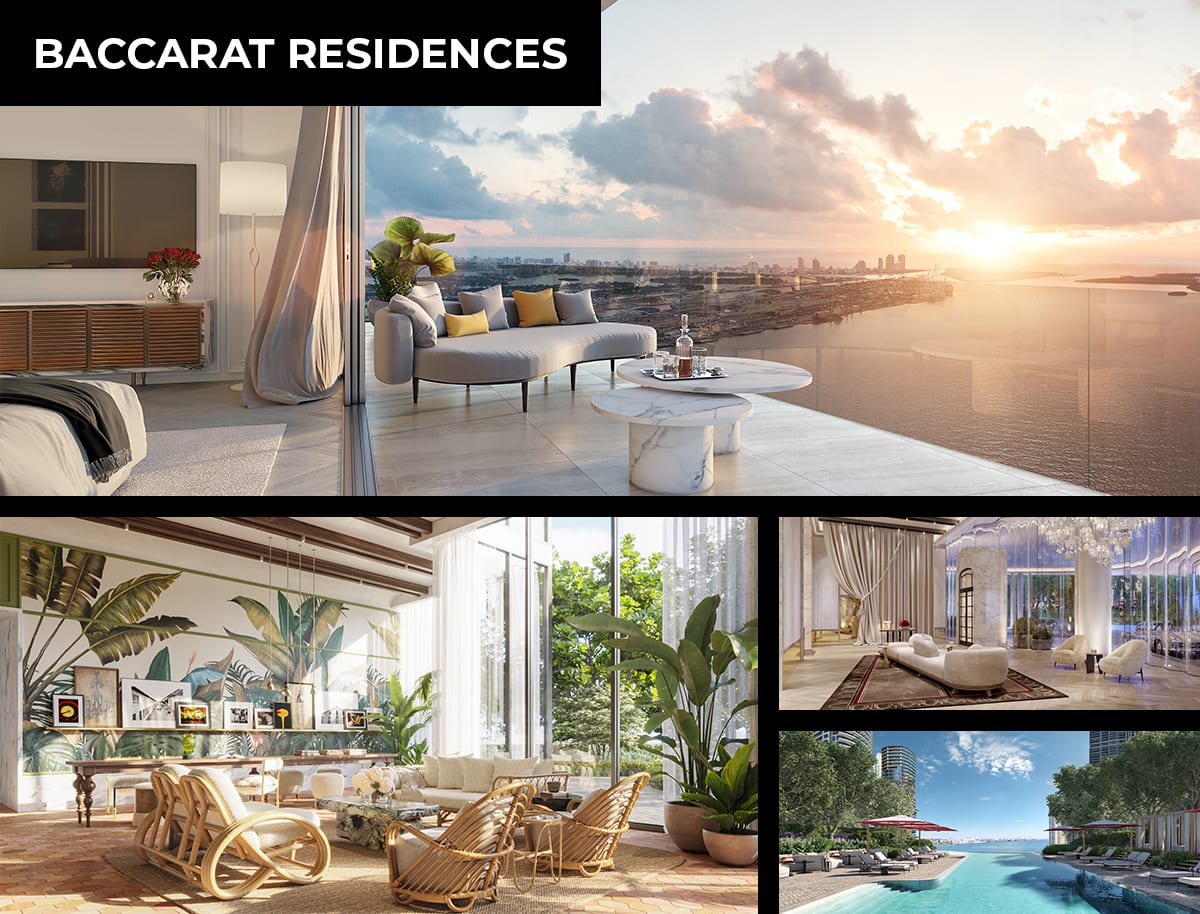 4) Baccarat Residences
Where Life Forever Sparkles
The ultimate expression of one of the world's most rarefied aesthetics, refined over centuries, perfected in the heart of Brickell.
Imagine a Life Where the Ultimate Luxury is Coming Home
Illuminated by the infinite shimmer of the Miami sun, this soaring tower will stand radiant on the waterfront where the river meets the bay, in the heart of the glittering lights of the city.
Combining the best of Brickell with enlightened design, artful service and enlivening waterfront amenities, residents can expect a lifestyle infused with laid-back glamour and limitless luxury.
Experience the Alchemy of Glamour, Celebration, & Intimacy
More than a home, Baccarat Residences offers a truly unique living experience. Everything has been conceived, designed and personalized with precision, passion and finesse.
From museum quality art adorning the walls to the majestic Grand Salon and the radiant Baccarat Spa with treatments, yoga and steam rooms, residents can spend their entire day delighting in the extensive selection of amenities.
Amenities
Panoramic views of Biscayne Bay & the Miami skyline from every residence

Lushly landscaped waterfront promenade and private marina

Open-concept, flow-through contemporary floor plans

24-hour attended security services and controlled access

Museum-quality art collection

Highly attentive concierge

State-of-the-Art game room

Business center

Wine cellar

Gourmet market

Pet-Friendly community & pet spa

& much more!
Learn More about Baccarat Residences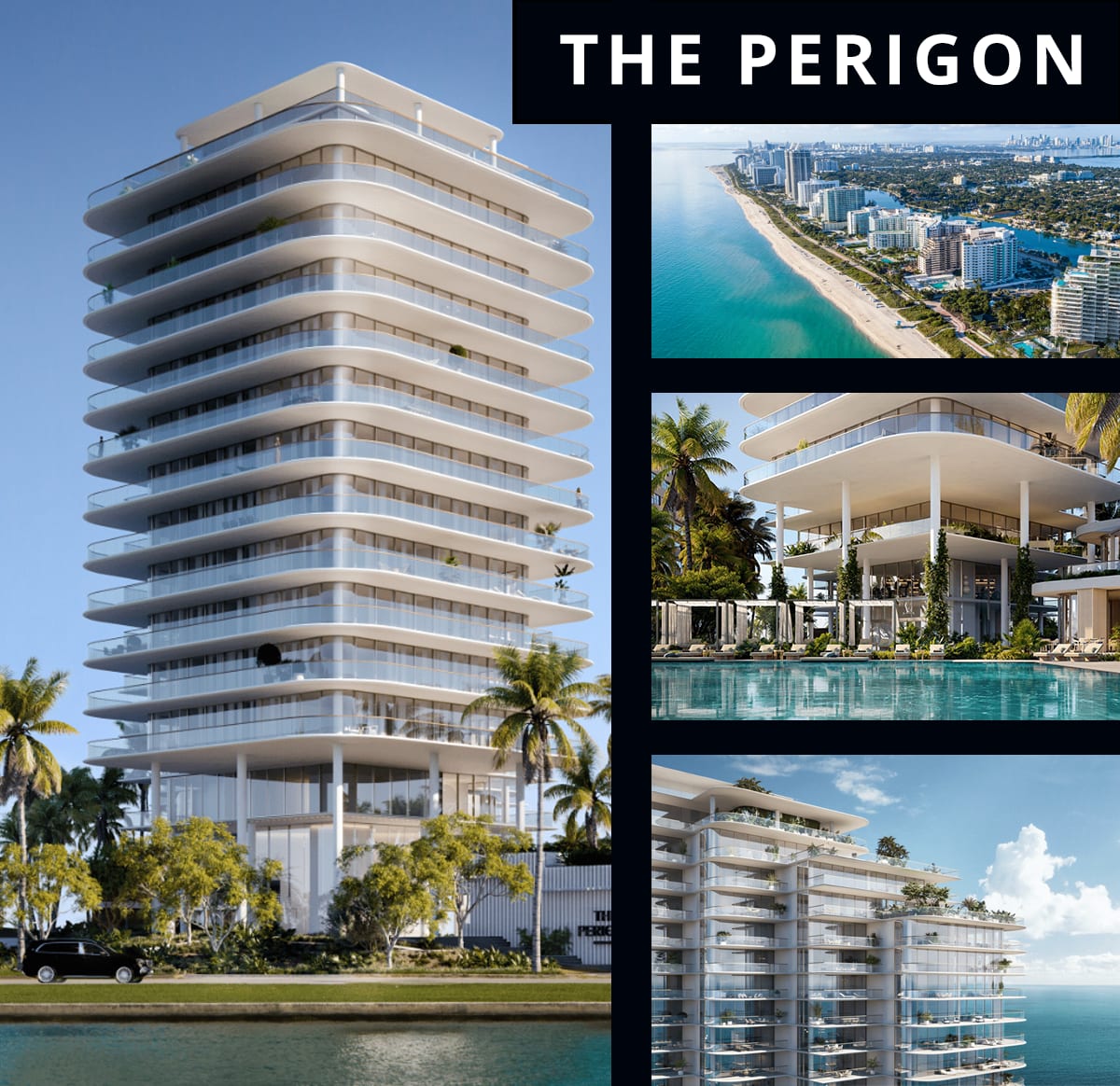 5) The Perigon
Spectacularly Modern Condos
Designed by Rem Koolhaas' OMA architecture studio, this new residential development is sure to be a new icon in the amazing "Millionare's Row" area.
Super Exclusive Residences
As the most modern condominium tower facing the Atlantic Ocean to date, this marvel of architecture will offer 83 super exclusive residences in it's 18-story height. Featuring spacious floor plans & boasting unobstructed waterfront views, condos at The Perigon are set to redefine luxury living along Miami Beach.
Luxurious Waterfront Amenities
This new development will feature a comprehensive amenity program offering the very best of beachfront living.
Some of the Spectacular Amenities Include:
Oceanfront restaurant

Beachside swimming pool

Outdoor spa

Sprawling conservatory

Modern Fitness Center

Bespoke wine room

Intimate Garden

Meditation Lounge
Learn More about The Perigon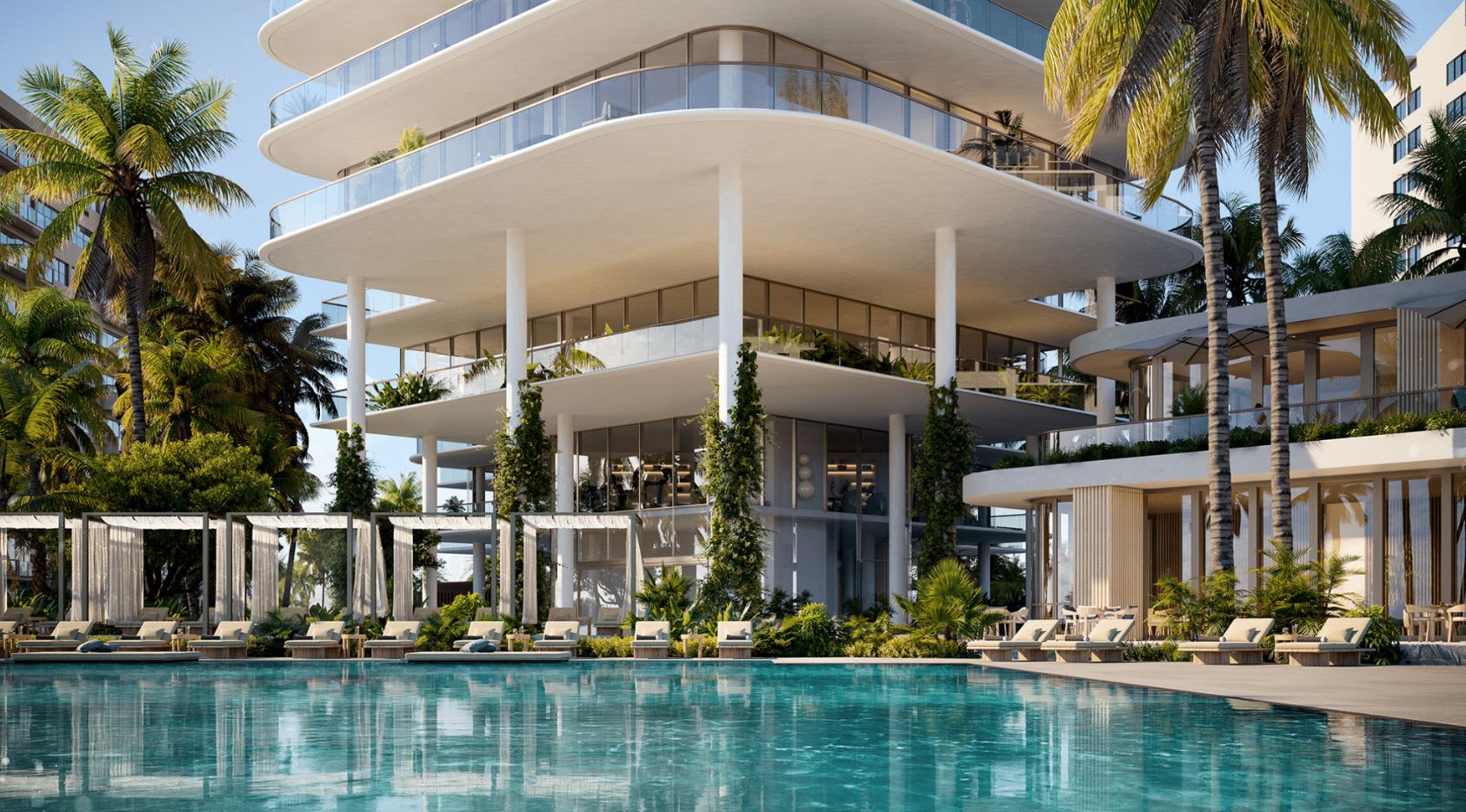 How Do You Get a Luxury Condo Like These?
By contacting The Miami Lifestyle Team, one of Miami's premier real estate teams.
Specializing in luxury properties in Miami Beach and the adjacent areas, our team provides standout services to clients who seek to buy, sell or rent. We bring personal, client-focused attention to every transaction, ensuring a fruitful relationship for selling your home. Making sure you choose the right agent or real estate team is essential to your success and Miami Lifestyle Team is here to help.
Are you ready to list your luxury home? Contact us today to learn more about how we can help you!